"Phoebe"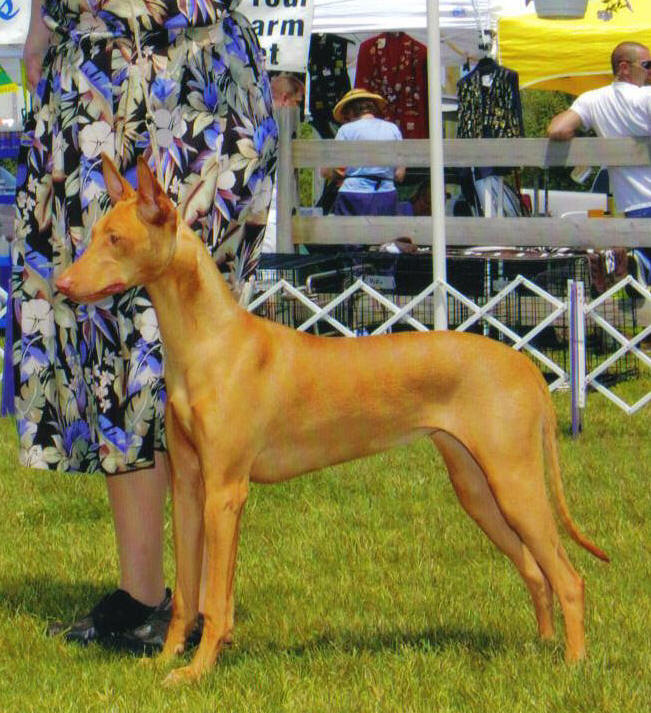 Phoebe's 2nd major (WB, BOW and BOS over a special) under Judge Butch MacDonald
UKC Champion and AKC DUAL Champion
CharmedWons Twice Blessed SC HIC (CHIC)
(Multi-European Champion Antefa's Minas Tirith x DC Sunwind Sovrin Scheherazade)
Date Whelped - August 25, 2005 (conceived via frozen AI)
10 Generation Inbreeding Coefficient = 11.4% (n=1903)
6 Generation Inbreeding Coefficient = 6.6% (n=127)
OFA Hips - Good
Knees - No Patellar luxation
Dentition - Missing 1 Premolar
Thyroid Level - Normal
OFA eyes: Very small cataract in one eye, but normal for her age (June 2013)
Allergies - None
Height = 23 inches
Weight = 41.8 pounds (10/14/09)
Diet - Raw (Whole-Prey Model) - 3rd Generation
Vaccinations - Minimal, Titer tested except for Rabies (given every 3 year)
Microchipped - Avid Euro
Spayed
CHIC Number - 91004
Stats thus far:
AKC Lure Coursing: 0 LCX points: 11 MC qualifying scores
ASFA: 60 points (all placements)
NOTRA: 0.5 ORC and 0.5 NORC point; 1 leg toward JOR
LGRA: 4 GRC and 2 NRC points
Rally Novice: 0 qualifying scores
"Bebes" is the runt of the first litter and almost died twice within the first week of life, thus her registered name...."Twice Blessed". She hasn't let any of her early problems slow her down a bit. While she might be a bit smaller than her littermates, what she lacks in size, she makes up for in attitude. This girl has "tude". She is always a very busy girl and is very intelligent. While I had hoped to place her, she has become an integral member of the pack in this household. She is also a wonderful caretaker and playmate to the puppies at CharmedWons. She is so tolerant, yet protective of these newest members of her household. Her Mama Phlirt is relieved to have a helper like Bebes.

While Bebes finished her AKC coursing title, she has shown on several occasions that coursing and racing are just not her cup of tea. She much prefers cuddling on a couch or patrolling her fenced in back yard. She definitely has a prey-drive and will chase and critter silly enough to get into the yard with her.

What's planned for Bebes in the future? I have started her rally training with the hopes of getting her qualified for the PHCA versatility certificate. She is a very intelligent and expressive girl and she loves to turn on the charm to get what she wants.

If the right home were to come along I would consider placing this lovely little girl.

Phoebe's Great Accomplishments:

Phoebe finished her AKC breed title at 20 months of age, becoming the 3rd CharmedWons Breed Champion. Phoebe earned 4 majors including Winner's Bitch on the 1st day of the 2007 National Specialty weekend.

Earned her Basic Herding Instinct Certification at the 2007 National weekend in Perry, GA. She also earned her JC certification too. What a great 2007 National for Ms. Phoebe.

Phoebe finished her AKC DUAL Champion title by earning her FCh title in August 2008 in Hanover, PA.

Phoebe finished her UKC Conformation title on January 17th, 2009.
Phoebe's start to agility: