"Phancy"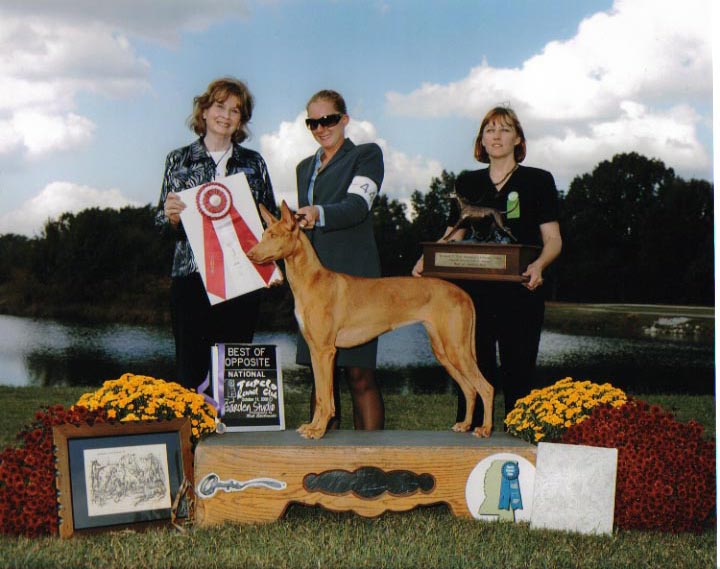 Phancy wins Best of Opposite Sex at the 2008 PHCA National Specialty in Memphis, TN
UKC Best In Show, UKC Champion
AKC GRAND Champion and DUAL Champion
CharmedWons Phlash of Bling
OA OAJ RA SC FCh HIC CGC VCX(CHIC)
(Multi-European Champion Antefa's Minas Tirith x DC Sunwind Sovrin Scheherazade)
Owner: Brianna Brown (PHCA Member), Georgia
Date Whelped - August 25, 2005 (conceived via frozen AI)
10 Generation Inbreeding Coefficient = 11.4% (n=1903)
6 Generation Inbreeding Coefficient = 6.6% (n=127)
OFA Hips - Good
Knees - No Patellar Luxation
Elbows - Normal
Height: 24.25 inches (61.6 cm)
Dentition - Complete
CERF (2007) - Normal
Thyroid - Normal
Allergies - None
Diet - Raw (Whole-Prey Model) - 3rd Generation
Vaccinations - Minimal
Microchipped - Home Again
CHIC number - 57622
Points thus far...
AKC Conformation: Grand Champion
AKC Lure Coursing: 1 LCX point; 4 Master Courser (MC) Legs
ASFA Lure Coursing LCM points: 27 points
LGRA: 2 GRC and 2 NRC points
AKC Agility: Excellent Standard - 0 qualifying scores; Excellent Jumpers - 0 qualifying scores
USDAA Agility: qualified in Starters Pairs and Starters Gamblers
Phancy's Great Accomplishments:

Phancy was Best In Sweeps at the PHCA Supported Entry in July 2006 at the Hudson River Valley Hound Association. She then went on to win a Group 2 in Puppy Sweeps.

Phancy finished her AKC breed title at just over 1 year of age, becoming the 1st CharmedWons Breed Champion. Phancy earned 4 majors including Winner's Bitch at the 2006 PHCA Eastern Specialty.

Phancy is #1 Pharaoh Hound for LGRA in 2006.

Phancy's first weekend on the field doing ASFA coursing and she takes BOB both days in an entry of 9 Pharaohs each day. She has 40 points now and both her 1st placements.

Phancy tries Rally and in 3 trials she earns her RN obedience title at the tender young age of 17 months.

Phancy earns her Basic Herding Instinct Certification at the 2007 PHCA National in Perry, GA.

Phancy wins BOB/Group 1 and then BEST IN SHOW at a UKC show in Perry, GA. She earns her UKC Champion title in 3 shows.

Phancy earns a back to back 5 point majors at AKC field trials in Georgia on June 16/17, 2007

Phancy earns her Canine Good Citizen (CGC) Certification at the Westchester KC Show in Tarrytown, NY on 9/9/07.

Phancy earns her AKC Field Championship with three 5-point majors in 3 AKC trials, her last one in Chattanooga, TN.

Phancy become CharmedWons 1st DUAL Champion and also CharmedWons 1st qualified for the PHCA Versatility Dog Certification (VC).

Phancy becomes the 1st CharmedWons ASFA Field Champion in December 2007 running in 10 trials.

Phancy earns her Rally Advanced (RA) title in Nashville, TN in January 2008.

Phancy wins Best of Opposite Sex at the PHCA National in Memphis, TN in October 2008.

Phancy earns her Open Standard (OA) title in March 2009 making her eligible for the PHCA Versatility Excellent (VCX) Certification.

Phancy earns her Open Agility Jumpers (OAJ) title in April 2009

Phancy has her 1st litter of 2 puppies in May 2011.
Phancy's kid's accomplishments thus far: [One litter of puppies (May 2011) 2 puppies.]
What Brianna says about her girl Phancy:
"When I set out to search for our third dog, I had specific requests for our newest addition. I wanted a fairly high drive dog that would do well in agility, conformation and hopefully coursing. Phancy has met and exceeded all of my expectations and is truly a VERSATILE Pharaoh Hound!

Phancy's registered name is CharmedWons Phlash of Bling. I chose that name because she is going to be just a flash in the agility ring. We had to have a B word, and instead of BOSSY (which she is!), I chose Bling because her name is Phancy. She was named after one of my favorite songs by Reba McEntire "Fancy".

Phancy lives with Femi the Pharaoh Hound who is the first female agility MACH and MACH2. Femi is now 11 so her agility career is limited to class. Femi has begun to enjoy the lure coursing field later in life and enjoys her warm spot on the couch.

Phancy has a wonderful temperament and loves people and other dogs. She has been with Femi and me at agility shows since a young puppy so she can handle just about any situation. She is always up for a game of fetch which can be Frisbee, tennis ball or anything you can throw. Although she does not swim, yet, Phancy loves the water and will retrieve her Frisbee out of the water. Her favorite foods include, but are not limited to---- rabbit, turkey, green tripe and bully sticks. She is not a picky eater.

Phancy has excelled in coursing, racing, rally, conformation and the agility ring! Since she enjoys the conformation ring and finished easily, we will show her when there is a local opportunity. Phancy won Best of Opposite at the Pharaoh Hound National Specialty in Memphis and she was owner handled. Phancy continues to work toward her Grand Championship in AKC. Phancy finished her AKC Lure Coursing Championship in just 3 days before earning her SC. We will continue to show her in lure coursing because she loves it so much. Phancy loves the Rally ring and has earned her RA! She has been in agility training since she came home as a puppy. Phancy loves agility and I know she will be wonderful and give those Border Collies a run for that 1st place ribbon! She has wonderful weave polls and obstacle performance. Phancy has earned both her novice and open agility titles and we will continue toward our MACH!
Phancy is not only great at performance and conformation shows but she was also a wonderful mom to her first litter on May 13, 2011. She had 2 puppies and we look forward to their future successes!